Through the combination of our ethnic world music mix and our ability to get an audience on its feet, The Afro-Semitic Experience has redefined the jazz concert and we are making a difference with our message of Unity in the Community. Come, be a part of the experience.
Our friendship ignites our passion and purpose: we merge our musical roots, Jewish and Afro-diasporic melodies and grooves, combining the core concepts of àse and shalom - power, action, unity, and peace. 
 
 As legendary jazz critic, Nat Hentoff wrote ". . . never before have I heard this lyrically powerful a fusion of Jewish and jazz souls on fire. . ."   The Afro-Semitic Experience's music is described by critic Carlos Ramos as "a whoopin', hollerin', testifyin' celebration of multicultural soul music. Imagine Charles Mingus sitting in with a Klezmer band, playing Gospel music set to the polyrhythmic pace of congas and bongos."
 
New recording: Freedom Seder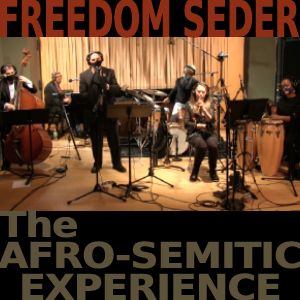 To honor the new official holiday of Juneteenth, we're excited to announce the release of our new recording, Freedom Seder.
We released the recording on June 19 to mark the celebration of Juneteenth, the day that marks the end of legal slavery in the United States.
This new album is the soundtrack of a live online concert we gave in February. This recording is completely live; there are no edits or overdubs.  If we make a flub, you hear it, and if we reach for the skies, you hear that as well.
It's available for the next few months exclusively from our website. There is no other place online or elsewhere that you can get this recording.
If you're interested, here's a link to the album on our music page:
LETTERS FROM THE AFFAIR: Highlights reel
Please take a look at a short highlights reel from, Letters from the Affair featuring Cantor Malachi Kanfer and Cantor Martin Levson.  We're going to be performing this work in May in Scarsdale, Baltimore and at the Washington DC Jewish Music Festival.